I thought I would show my somewhat infamous 2005 Marshall 1959HW, that I had upgraded by George himself at Metropoulos Amplifiers in Flint, Michigan. Within a few months of me recieving this amp, actually complete stack with two HW Celestion Heritage 30H loaded 4X12"cabs.
The amp I have is the second one actually, the amp is the second one I recieved as the first I was so dissatisfied with the tone of that I had them order me a replacement. The GC in Scottsdale eneded up having the amp 'checked out' by their amp guy and was later for sale at their store. Actually I preferred the first amp in the long run.
Much of my dissatisfaction was in the 'tone' of the amps, differing greatly from all the 'real' Marshalls I had owned. My first amp a '68 Super Lead, then I owned a 1967 JTM Super Bass Black Flag, a 1966 JTM 45 with end blocks and EL 34's, a 1973 Super Lead.
Just recently I sold the HW cabs, the 'weakest link' perhaps in the tone equation, as I am attempting to pay for a rare Washburn guitar that became available, but since I luckily cannot even normally worry about GAS, this is the last guitar I will buy fir many years!
Here are some pictures of the amp with gut shots, the upgrades include the Heyboer Dagnall Clone, built to George's specs, F&T filter caps, Zoso's, Allen Bradley carbon comp resistors, Mullard Reissue EL 34's, Tung Sol 12AX7's.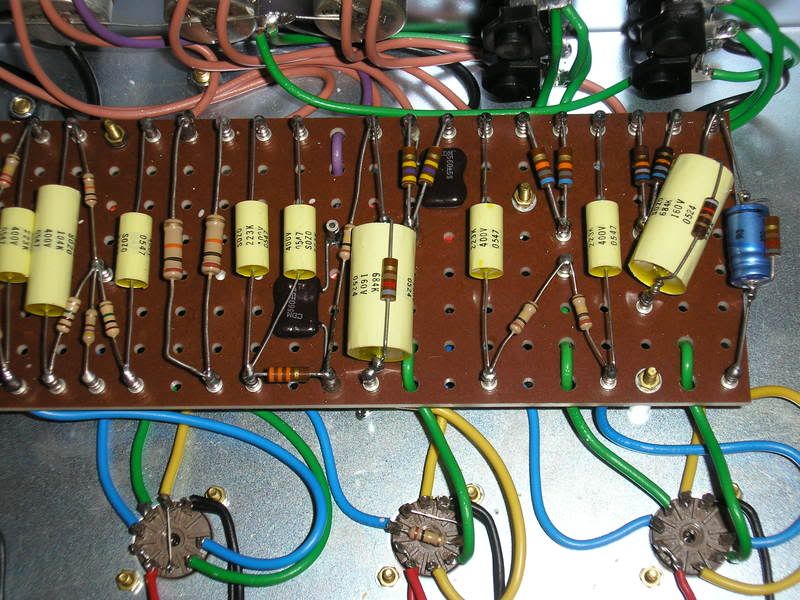 Here is the big resolution album:
http://s57.photobucket.com/albums/g219/ ... %201959HW/
I have mixed emotions about this head and have had difficulty 'giving' it away for resale as I did the speaker cabs, sure George had to 'clean up' the sloppy pre-amp wiring , on this 'handwired' amp,and I had talked with Brian as well about the amp as I either have issues with getting clean power or certain gremlins which seemed to come and go, but nothing is found wrong on return to Flint!
yngwie308